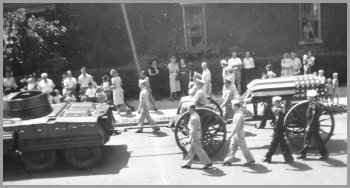 Marcy was buried in St. James military cemetery in France
but the grave was later moved to Holy Cross cemetery in
Brooklyn. The above photo shows a tank pulling Marcy's
casket down Church Ave.to his new gravesite.
Nov 11, 1947
---
Maurice G Jones was born in August 1907.
For a time Marcy worked in his older brother's (Joe Sr.'s) appliance store. His nephew John remembers Marcy showing his other young nephew, Joe Jr., how he could change radio stations at the touch of a button. At the time, this was a new feature of radios and Joe Jr. was fascinated by Marcy's technical savvy. This probably contributed to Joe's love for electronics as he went on to become a master electrician.
During WWII Marcy was drafted into the Army. At the time he was still single but engaged to be married. He was assigned to Company I of the 121st Infantry and fought in France. On August 13 1944, at 37 years of age, he was killed in action.
News of his death was a staggering blow to the family, especially to Joe Jr. who was also serving in the Army at the time. Eighteen months earlier, Joe's Uncle Marcy had served as the best man at his wedding. Marcy was also the godfather of Joe Jr.'s first born daughter, Helen, born in November 1943.