Instead of reacting with anger and condemnation when divorce entered the lives of her family, Helen responded with her usual grace and dignity .Her only advice to a newly separated granddaughter was to "always leave a light on, because a dark house is too sad." She is upset that divorce is becoming so common in today's society, and wonders what will become of all the children. She has been to more funerals than she cares to remember and wonders why God has not yet called her, but is quick to add that she is not in a hurry to go! Approximately eight years ago, emergency surgery forced her to be hospitalized, where she remained unconscious and hooked up to a respirator for almost a month. When she recovered, her health was better than it had been in years. Much to everyone's surprise, she was up and around in no time.
In her later years, she has let her emotions show a bit more. She is quick to hug and kiss those she loves and fate has forced her to let her tears be seen. Helen finds aging to be an annoying process. Mentally, she is very fortunate. Her mind has stayed clear and sharp. Physically, she has gone from being a strong, tall woman to one who is small and fragile. Though her hearing has deteriorated, her eyes remain strong. She still reads a new book every week. She cooks her own meals, sets her table, and watches Jeopardy every night. Helen has seen the role of women change dramatically in her lifetime. While stressing that she believes family comes first, she encourages the independence of women in her family. She has accepted interfaith and interracial marriages, and the choice of single parenting. She is still learning and evolving at the age of 97.
Her greatest heartache is that she has outlived her husband and two of her children. After a battle that spanned two decades, her daughter Justine succumbed to cancer almost 15 years ago. Joseph Jr. died suddenly from an aneurysm five years ago. Helen has seen her children, grandchildren, and great-grandchildren battle major injuries and illnesses, including cancer, and the uncertainty of being HIV Positive. To witness the marriage of her daughter Joanne, Helen traveled from New York to Virginia at the age of 93. News that comes as a shock to others, she accepts with the grace and wisdom that come with living a good long life. She can no longer go outside in cold winter weather or in bad weather during the summer. Helen has been a widow now for over 21 years. She continues to live alone, caring for herself and her home. She has learned that love, happiness, war, illness, joy, sadness, riches, poverty, and death, are not interruptions of life, but that they are the essence of life itself. She raised 9 children, who in turn gave her 29 grandchildren, 49 great-grandchildren and 5 great -great-grandchildren. As each child is born, she carefully records the birth in "her book" along with other important events such as weddings, christenings, etc. She knows each member of this ever-growing family by name, including all of the in-laws.
Through the family she and her husband began so many years ago, Helen continues to influence our ever-changing world. She raised children and grandchildren who as parents, nuns and teachers nurture people both spiritually and educationally. Her children and grandchildren tend to those who are less fortunate in shelters for the homeless. Her children and grandchildren are the doctors and nurses who care for those who are ill. Her children and grandchildren are the lawyers who defend those in trouble, the police officers who keep us safe, and the judges who enforce the laws of our country. Her grandchildren and great-grandchildren are the people who will run today's world, and nurture tomorrow's children. They serve in many capacities and occupations to help shape our world. Helen's influence is still seen and felt today, by all who know her. This amazing woman continues to live, love, and learn, not merely survive, until the Lord is ready to take her. This amazing woman is my grandmother, Helen Jones.
Next Page (Helen's Books)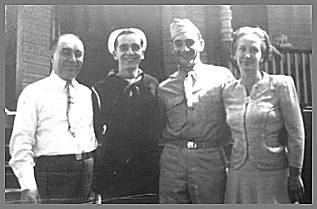 Joe Sr., John, Joe Jr., Helen

"Wind Beneath My Wings"
Note: Helen passed away in the arms
of her son, Jerome, on March 12, 2000