Background
From a young age Joe Jr. was fascinated by, and had an incredible aptitude for, electronics. Long before televisions were introduced for sale, Joe had built his own. Years later he taught TV repairs in Brooklyn Tech. He also worked on the sound system in Ebbets Field, home of the Brooklyn Dodgers. Being a Brooklyn boy, the Dodgers were his favorite team.
After the bombing of Pearl Harbor by the Japanese on Dec 7, 1941, the United States entered WWII. When the war began, Joe was a 19-year-old working for RCA. As a 20-year-old, he married the love of his life, Anne. Their first daughter, Helen, was born ten months later.
Because he was an employee of a wartime industry, Joe was entitled to an exemption from the draft. However, he saw all his friends being drafted and didn't feel it would be fair for him to stay home while others had to serve. In May 1944 Joe entered the Army and began a path that would lead him into the thick of battle.
About the Letters
Joe wrote a letter to his wife every chance he got. Anne has kept the hundreds of letters she received during the war. Joe's handwriting was clear and precise and Anne stored the letters in a special box. Despite some yellowing from age, the letters are in fine condition and were easy to transcribe.
Censorship prevented soldiers from writing anything specific about the war. Every GI knew that each letter would be thoroughly examined before being forwarded on to the States. Joe Jr. was extremely careful never to divulge anything even remotely sensitive in his letters. This, and the fact that he rarely spoke about the war after returning home, made it difficult to piece together exactly what went on during his time in battle.
We do know, however, that he:
- was an infantryman in Patton's Red Diamond (5th) Division,
- fought in the Battle of the Bulge,
- served as a lead scout while in the 3rd Army,
- secured a Nazi flag and a German officer's Belgique pistol,
- killed an advancing enemy,
- captured several German prisoners, and
- was wounded while crossing a river.
Conditions During Battle
Anne remembers Joe telling her about the snow and extreme cold the soldiers faced during the Battle of the Bulge. Every so often the men in his unit would be given a new uniform, but it was so cold that they just put the new uniforms on over the old ones. Whenever they reached a place indoors where they could relax and get warm for a while, layer upon layer of clothes would be removed and dried.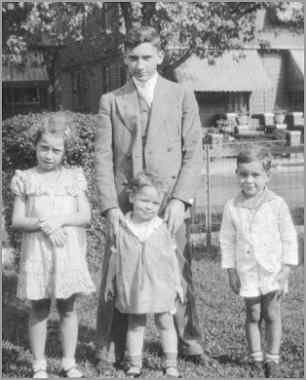 Joe Jr. at age 13
with some of his younger siblings,
Jane, Jackie, and Jerry
-- Sept 1935 --


Belgique Pistol
secured by Joe Jr.
in WWII