First Letter Home
Written from Camp Upton, NY, Joe's first stop after leaving home.
--------------------
May 26, 1944
Dear darling Anne,
Well here I am finally resting in bed. What a relief. We got on the train at Penn Station at about 10:45am and arrived at Upton at 12:30. We got our duffel bags with towel, soap, toothbrush, etc. Then we got tags assigning us to a bed. Then we got a blood test. Then they showed us where our beds were. Then we ate lunch -- coffee like mud and two cookies. Then they gave us a box with our bed linen. Then we took 2 exams, 150 questions on each. I did pretty good, especially on the mechanical aptitude test. Then we had supper, sausages, potatoes, beets, cold slaw, bread and butter, cake and coffee (not bad, not good).
After that we got a lecture on insurance and allotments and saw a couple of uninteresting movies on Army administration. Then it was 8pm and we were dismissed. Lights out in the barracks at 9:30. I shaved and took a shower and came right up to write you this letter. Please excuse the handwriting because I am trying to finish in time and am in an awful position.
I miss you already honey and I love you more than anything else in the world. I better sign off because they are turning off the lights. I miss Helen a lot too honey. Give her a great big kiss and a hug for me. For you I have loads of hugs and kisses. Good night for now darling, until tomorrow.
I remain your loving husband, Joe
P.S. Give my regards to everybody and God Bless you.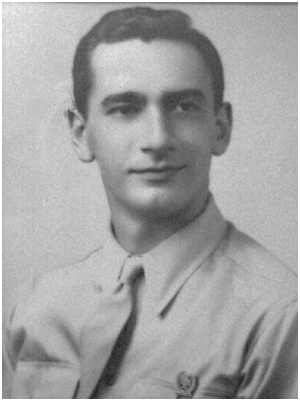 Joe Jr.
-- In France 1945 --

"Caissons Go Rolling Along"