While David and his family remained in Wales, his brother John emigrated to the United States. We don't know exactly why. Perhaps it was (in typical Jones fashion) the pursuit of adventure. Maybe he was just looking for a new beginning. We do know that that when he arrived in America he enlisted in the United States Navy on March 25, 1861 in Buffalo, New York.
He served as an Able Seaman on the SS Penguin, a Civil War gunboat that patrolled the Great Lakes. He also served on the frigate SS Colorado. John was discharged in Portsmouth, NH and re-enlisted on October 27, 1862. He was finally discharged on February 10,1864 in New York, having served three years in the Navy throughout the height of the Civil War.
John was vertically challenged, standing only 5'4 1/2" (perhaps that's what made him such a successful Navy man - he fit in those smaller ships). His complexion, hair and eyes were dark and he weighed about 160 lbs.. He had "JJ" tattooed on his right arm and was totally blind in his right eye.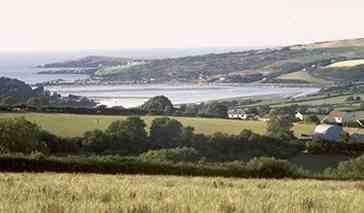 Cardigan Bay, Wales

"Gwenllian's Repose"
A Welsh Folk Song