Only eighteen days after his discharge from the Navy, John married Ellen Gillen. Reverend Edward St. John married John and Ellen at Rutledge Street in Brooklyn at the Methodist Episcopalian Church. They welcomed their first child, a son, David Jenkins on July 24, 1866. David Jenkins Jones is Pop-Pop's father. David was born at home, 10 Essex Street, New York City. After David came Daniel, born in 1869. A sister, Ellen Grace, born in 1873 then joined the two boys. John Thomas completed the family, born April 12, 1874.
John supported his growing family by working as a laborer in the Brooklyn Navy Yard. After his wife Ellen died in 1907, he returned to his native Wales to live on his Civil War pension in the town he grew up in. Shortly after John's return to Wales, he met and married a widow, Catherine Jones. They were married at the Tabernacle Chapel, right next door to their home at 2 Water Street. Catherine's first husband, Captain James Jones, drowned off the coast of South Africa. John and Catherine had a happy life in Wales until June 28, 1921 when John passed away at the age of 82.
Catherine petitioned The U.S. Government to continue living on John's pension, but we never learned time outcome. We do know she kept trying until 1927 - who says you can't fight City Hall?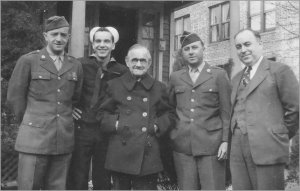 David Jenkins Jones (1866 - 1947) center,
flanked by his veteran family members.
Left to right,
his son-in-law, Daniel Hunt,
his grandson John,
and his sons Maurice and Joseph
2212 East 18th Street, Brooklyn, NY
-- Winter 1943 -1944 --