Intense Action

Oct 11, 1918
Relieved the First Division. The 16th Infantry held the line forward of Exermont.

October 12, 1918
Held line south of Bommerance.

Oct 13, 1918
Held line. Moved up in woods.

Oct 14, 1918
1st wave at 8am. ATTACK. Capt. Walsh killed. Buried four times. Cop. Dick wounded.

Oct 15, 1918
1st Batt. attacked. J Neary missing. Bill Quigg goes to hospital. The last of the attack flooded from front.

Oct 16, 1918
Hold.

Oct 17, 1918
Hold.

Oct 18, 1918
J Madden sick. Went to hospital.

(No entries for nine days)

Oct 28, 1918
Eddie Hussey and C. Schulmerick killed at 5am. Life saved by switching with Charley Schulmerick. (God bless Charley Schulmerick)

(No entries for three days)

Nov 1, 1918
Pulled out for Apremont.

Nov 2, 1918
Barrage for 2nd Div. advance.

Nov 3, 1918
Stayed at Apremont.

Nov 4,1918
Left Apremont. Hiked to Vipel(?) 25 kilo passing St. Juvin.. Stayed overnight.

Nov 5, 1918
Started out at 8am. Arrived at Authe(?).

Nov 6, 1918
Hiked up to Li Vivier and rested. Big meal. Bed. 21k.

Nov 7, 1918
Arrived at Chaumoat(?) this side of Sedan. Hiked through Artislers(?) 4 kilo. Chamery, Bulson, Chaumont 20 kilo.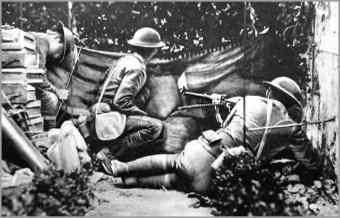 Fighting at Chattaeu Thierry