Back To Duty

May 3, 1918
Stayed in Tours until 9:45 am. Had three hours sleep. Arrived at St. Aignon at 2:45pm. Slept on ground at camp.

May 4, 1918
Reveille at 6:00 am. Shower. Rain. Bed at 10:00 pm.

May 5, 1918 (Sunday)
Went to church at St. Aignon for a few seconds. A year ago started on aqueduct duty.

May 6, 1918
Rain. Took walk to St. Aignon and Noyon. No Breakfast.

May 7, 1918
No breakfast. Wet. Rifle # 523390. Left camp at 5:30pm. Boarded train at 9:00pm.

May 8, 1918
Arrived at ? at 11:00am. (lists other towns passed). 11pm put in beds at American Red Cross.

(No entries for two days)

May 11, 1918
Wrote to Mother and Helen. Started for the front line. Stayed there overnight.

May 12, 1918
Six months in France. Arrived in Brest.

May 13, 1918
Left Relleray(?). At 9:00am for Baccarat. Ate with 166.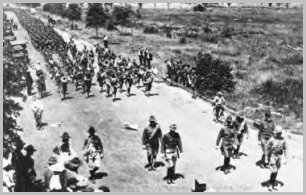 The 165th marching in Camp Mills

photo courtesy of the
Nassau Co. Museum,
scanned by Vince Fitzgerald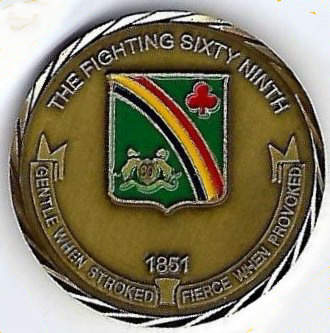 Love the motto:
Gentle when stroked -- fierce when provoked